User login

Why us?

96% Satisfied & returning customers
Customer support 24/7
A wide range of services
Up to date sources
100% privacy guaranteed
BA/MA/PhD writers
Only custom-written papers
Free plagiarism report(on demand)
Direct communication with writer


14
Blog
6 Tips That Will Help You Score an A for Your First Essay
Posted date: December 10, 2018
Tags:
1. Be sure to get basic understanding of the required task. Do not postpone this part till the writing time starts. Make sure to go over the notes and look for the parts that may need extra clarification. The professor will appreciate any clarifications prior to the deadline. Otherwise, you may end up e-mailing your professor in panic. Keep in mind this best writing advice. Usually, before starting to write an essay, you will be required to read something and give critical evaluation of the material. Some of the papers need extensive research or group work. If you plan all...

About Us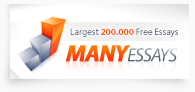 CONTENT THAT TELLS
Place to Purchase Original Content and Custom Writing Papers Online
Subscribe
Join 32, 000 readers!
Search