User login

Why us?

96% Satisfied & returning customers
Customer support 24/7
A wide range of services
Up to date sources
100% privacy guaranteed
BA/MA/PhD writers
Only custom-written papers
Free plagiarism report(on demand)
Direct communication with writer


14
Blog
3 Non-Verbal Ways to Express Love
Posted date: November 08, 2016
There is a moment in every relationship when you feel you are ready to say "I love you". You wait for the right moment, take a deep breath, look in his/her eyes, but at the same time there is a question, which daunts you: what if I hear nothing in return? Or even worse, what if he/she laughs in your face? Believe it or not, there is a chance he/she has already said "I love you", you just were not listening. "How is that possible?", you may wonder. Well, according to the psychological research, when it comes to relationships, people tend to express their e...

About Us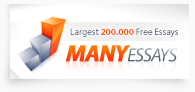 CONTENT THAT TELLS
Place to Purchase Original Content and Custom Writing Papers Online
Subscribe
Join 32, 000 readers!
Search
Last posts