User login

Why us?

96% Satisfied & returning customers
Customer support 24/7
A wide range of services
Up to date sources
100% privacy guaranteed
BA/MA/PhD writers
Only custom-written papers
Free plagiarism report(on demand)
Direct communication with writer


14
Blog
Things You Should Definitely Avoid in Your Job Interview
Posted date: October 15, 2018
Tags:
Interviews are for sure something challenging, tough, and stressful for anyone as you need to perform yourself the most valuable and eager way to the organization. This high-pressure situation might turn out to be a total disaster. That's why it is essential to master the art of "interviewing" and get better at over time. Undoubtedly, you just can't get ready and do it as a certain mantra as each interview will differ from the previous one and won't be the same as the next one. Being concentrated on the things you should say, we somehow tend to forget what we shouldn't do and say. ...

About Us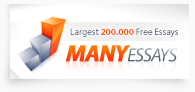 CONTENT THAT TELLS
Place to Purchase Original Content and Custom Writing Papers Online
Subscribe
Join 32, 000 readers!
Search